Shiftu Technology offers integrated software solutions for Hotels where data flows electronically across functional departments accurately and accomplishes all the major management functionalities of a hotel. This is a single solution which offers you the service and 24×7 technical supports from one helpdesk. The returned ROI is unbeatable and of superb convenience and effectiveness at lower cost of ownership. Hotels can manage their front office, POS (point of sales), accounts, inventory and much more using just one login. Our hotel management software enables hoteliers to easily manage their operations from anywhere anytime.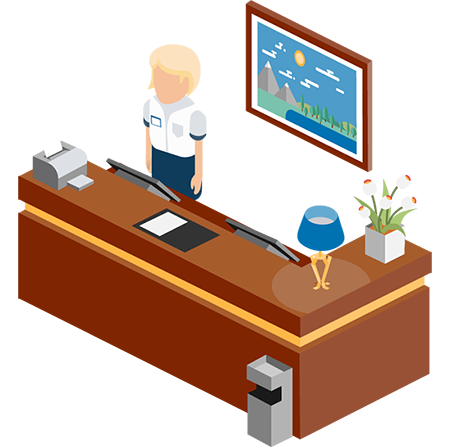 modules
Our Easy-to-use booking software for hotels and other accommodations covers the following modules:
Try our demo services for free. Enjoy our free trial now call: 0674 6008111.
Benefits of Shiftu's Hotel Management software:
Different accommodation types: Add multiple numbers of accommodation types for your hotel.
Extra Package options: Extras packages can be easily added to online menus.
Multi Language support: The hotel booking form is can be available in multiple languages.
Seasonal pricing changes and discounts: Set price changes based on seasons.
Calendar: Get a quick and relevant overview of booking calendar.
Invoice creating: Create invoices more easily and with pre added taxes.
Sales Statistics: Bars and graphs to view and follow up on sales and occupancy.
Manage room bookings: Change dates and prices, add or remove rooms, group bookings etc instantly.
History log: Events and changes made to a booking are automatically saved and shows in the booking history.
Downloadable PDFs and PPTs: Present your customers with downloadable PPTs and PDFs.
Re-use guest details: Search and use pre recorded details of regular customers for booking.
Automated email confirmations: Send customised email confirmations after every booking.
SMS booking alerts: Send booking confirmations through SMS to clients.
Export files to excel sheet: Export Excel files with guest and booking details from the hotel software.
Automatic backups: Backups of the information from hotel software are taken daily.
Online card payments: Give your guests the option to prepay with credit cards.
Multiple user accounts: Give your colleagues their own logins and assign them different user levels.
Multiple booking forms: Create different booking forms with custom designs.
Categorized accommodation types: Create different categories of rooms and services.
Sales:
Inquiry
Inventory
Group
Reservations
Rates
Front Desk:
Reservation/Booking
Billing
Registration card
Audit
Laundry:
Guest laundry
Hotel Laundry
Daily Linen
Laundry Items
Delivered/Undelivered Items
Back Office:
City Ledger
Direct Billing
Agent Invoicing
Statements
Advance Deposit
Guest Ledger
Banquet Hall:
Booking Reservation
Menu card definition
Event Quotation
Event Planning
Maintenance:
Work order scheduling
Email and SMS alert
Reports
Item Management