Android Development is the first complete open source free mobile platform introduced. Android allows programmers to write managed code in Java based language and utilize Java libraries. Android has the power to completely change the look, feel and functions of a mobile device. The elegance of Android is third party applications which can be created with Java & Android framework. Shiftu has been in the domain of Mobile Application Development for quite good time of all the major platforms.
Understanding the endless opportunities and possibilities of Android Custom application development, we ventured into providing expert Android application development services. Our specialized team of Android team leaders and Android developers team has years of cumulative experience in Android development services.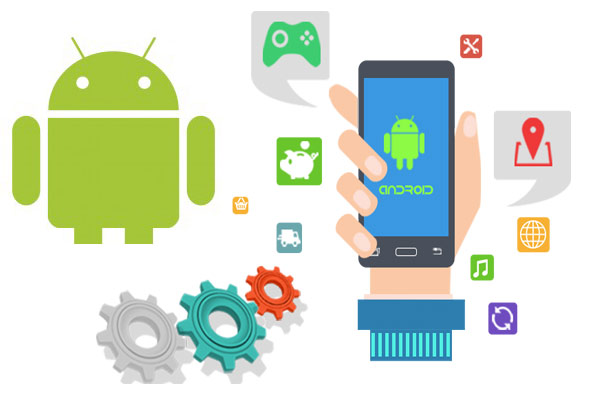 Services
Shiftu Technology's mobile applications development in Android develops simple to complex apps which have superior quality and never backs in performance. We put innovation and excellence into developing an application which is diverse enough for our clients.
Our Android developers have multiple project experience in Java application programming, Android SDK and Framework APIs to develop rich end point Android applications to meet our customers' business requirements. We have been successfully keeping our customers satisfied and always business ready to be the best to establish long lasting effective business relationships.
Our Android development services provide these diverse functionalities to our customers:
Android game development.
Development of enterprise android application.
Education and interactive learning Android app development.
Development of android application for Business and Finance.
Android applications for medical, pharmaceutical industries.
Social media network apps development.
Android application development for Music, video, audio and entertainment.
Android application development for Utility and productivity.
Travel and life style for Android application development.
Android app developments for News and Weather.
Android application development for reality shows.
Multimedia Android development in 2D and 3D.
Android Applications development for businesses with social media integration.
Customized Android Apps development.
Websites for Android mobile platform.
GPS Tracking Applications development.
Custom utility Applications development.
Marketing and promotion based Application development.
Android Application remodification and maintenance services.
Our Android development services provide these diverse functionalities to our customers:
Deep acknowledgement of Android SDK and Framework.
Complete CMMi process adherence.
Experience in creating intuitive GUI.
Experience in providing Android App development service.
Pool of skilled Android Developers.
Creating Android Apps supporting most of the electronic devices.
Diversified industry knowledge of application development.
Benefits of Android Applications:
Immense critical features provided by an open source platform
Easiest integration with all Google services
Featured and improved framework which supports flash
Linux based kernel supporting multi-tasking features

Business
Booking online ticket
Hotel reservation onlinen
Boarding passes online

Communication
Apps for chatting
Social & Browsing apps
Apps for SMS

Education
Video Apps
Audio/Music Apps
Fun Apps

Entertainment
Video Apps
Audio/Music Apps
Fun Apps

Finance
Budget Management Apps
Banking Apps
Payment & Trading Apps

Health & Fitness
Weight Loss Apps
Exercise & Fitness Apps
Yoga & Relaxation Apps

Libraries & Demos
Stickers & Emoticons Apps
Frames & Templates Apps
Ringtone & Wallpaper Apps

Lifestyle
Recipe Apps
Spirituality Apps
Beauty/Women-Health Apps

Media & Video
Recipe Apps
Spirituality Apps
Beauty/Women-Health Apps

Medical
Recipe Apps
Spirituality Apps
Beauty/Women-Health Apps

News & Magazines
Recipe Apps
Spirituality Apps
Beauty/Women-Health Apps

Personalization
Recipe Apps
Spirituality Apps
Beauty/Women-Health Apps

Photography
Recipe Apps
Spirituality Apps
Beauty/Women-Health Apps

Productivity
Recipe Apps
Spirituality Apps
Beauty/Women-Health Apps

Shopping
Recipe Apps
Spirituality Apps
Beauty/Women-Health Apps

Social
Recipe Apps
Spirituality Apps
Beauty/Women-Health Apps