Software Testing
Quality Assurance
& Testing
Shiftu Technology has expertise and experience in various testing software and technologies. Our testing team includes experts who are proficient in manual and automated testing. Our software testing services are designed specifically to meet client's needs. Depending on client requirement, we provide outsourced testing services across various software development methodologies such as Waterfall, V-Model, Spiral, Incremental, RAD and Agile. Through Agile testing, we deliver on Agile's promise of ensuring software quality while achieving on-time delivery.
We have put together best practices into a structured testing methodology and is capable of delivering cost-effective, bug-free solutions using the blended delivery model.
Our expert test engineers will leave no stone unturned in the search for bugs that could interfere with the software / product. In fact, you can count on our refined skills and process to catch bugs earlier rather than later, saving you considerable expense.
We have invested in building strong, extensible and customizable test automation frameworks with a suite of ready test cases to accelerate time-to-market. We provide consulting services and technical assistance in testing client products for industry-specific compliance and certifications.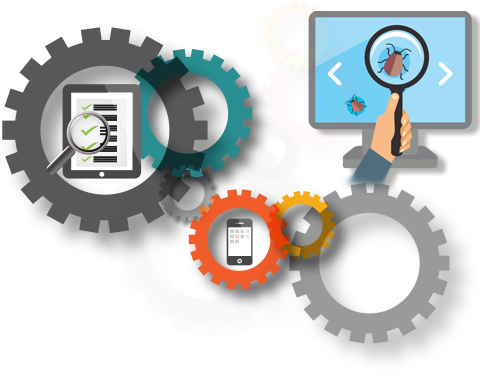 Types of testing
User Interface & usability testing
Compatibility & interoperability testing
Accessibility and compliance testing
Platform certification testing
White box testing (Code coverage & Unit testing)
Functional automation testing
Localization & internationalization testing
Application testing
Web application testing
Mobile application testing
Enterprise application testing
SaaS-based application testing
Product testing
Testing tools
Functional automation testing tools
Selenium
Test Complete
QuickTest Professional (QTP)
Micro Focus SilkTest
BRIDGE:test
Performance testing tools
HP PerformanceCenter (Load runner)
Micro Focus SilkPerformer
WebLOAD
JMeter
Utilities for testing
LinkChecker
Xenu
Unit testing tools
JUnit
NUnit
Bug tracking tools
Bugzilla
JIRA
MantisBT
TeamTrack